The Shark Steam Pocket Mop Sanitizes All Sealed Hard Floor Surfaces
If you have floors, you'll want to be able to clean them in a quick, easy, and efficient manner. A floor cleaner that does this job without any chemicals is something definitely worth checking out. The Euro-Pro Shark Deluxe Steam Pocket Mop offers a variety of nice features, the chief being its ability to clean floors using simple tap water. This water is heated fast and turned to steam in thirty seconds, and the steam is automatically released every time the mop is pushed forward. This Shark Steam Pocket Mop uses microfiber pads plus steam to help clean ground in dirt, dust, dried spills and it also kills harmful germs.
Plus, this Shark Steam Mop sanitizes and leaves the floor "virtually dry" behind it. Other nice features include an adjustable handle, a light weight, ease of use, a thirty-foot cord, fifteen ounce water tank and steering that swivels 180-degrees. Two washable microfiber cleaning cloths are included. Also a nifty feature is the pocket mop's carpet glider. Online customer reviews about this Shark Floor Steamer were overall positive. However, some consumers did feel the mop didn't completely clean floors, and that it left behind a streaky, dull finish.
The Positives
Lightweight steam mop cleans and sanitizes all sealed hard-floor surfaces. Ready in 30 seconds and releases steam with push-forward motion of mopping. Steam pocket mop offers an adjustable-height handle and 180 degree steering. Maneuverability helps you be able to clean baseboards and in-between furniture. This hard floor cleaner includes an extra-large 15-ounce water tank and a long 30 foot power cord.
The Negatives
Reports that the steam pad had trouble cleaning grout on ceramic tile floors. Issues with the mop leaving behind a streaky and dull finish.
So What's The Scoop?
While the Shark Steam Steam Mop is safe for use on all hard-sealed flooring, including wood, this unit also freshens and deodorizes area rugs and carpets with its carpet glider Most people providing reviews, however, seemed to like this steam mop and felt it cleaned well.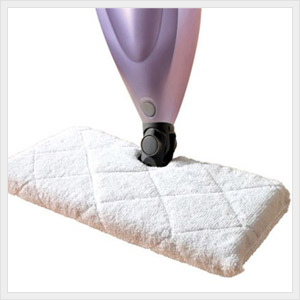 One Response